Status Update: Case Status Releases SMS for Legal, a New Business Texting Feature
Case Status software's new SMS for Legal app helps law firms easily and securely text with clients as part of their case workflow.
Case Status is a client connection platform for law firms. In other words, it's a one-stop-shop for all client communications needs.
Functionally, Case Status is a law firm-branded portal, designed to be mobile-first, through which law firm users can push — and law firm clients can access — up-to-date case information and notifications. Case Status integrates with lots of case management/law practice management software and with Zapier, making it a fairly extensible tool. In its fullest flowering, Case Status can replace email for client communications, in much the same way that Slack has replaced email for internal office communications.
Textual Analysis
Many law firms have taken an alternate path over the course of history, by trying to avoid client contact whenever possible. That has (not) worked to the tune of virulent complaints from dissatisfied clients. In fact, the No. 1 complaint against law firms is lack of communication. So, if your law firm can add software with a focus on communications with clients, well, said software should shoot up to No. 1 on your purchase list.
SMS for Legal Introduces Texting to the Communications Platform
My mom knows that if she wants to reach me and get a quick response, she should text me. And, for sure, one line of demarcation for considering the addition of a technology component to your law practice is whether elderly people get it and use it. Texting has become ubiquitous in that way.
Starting out, texting was largely used as a personal communication method. Over the course of time, customers began to text businesses, and businesses had to be responsive. Of course, this has been a boon for businesses, too. Texting has become an essential business communication method, in part because it's the one consumers respond best (most quickly) to. Like my mom knows, if you want somebody to respond (like the son who never calls you), you text them.
But in the business context, record keeping for text messages, especially for law firms with continually increasing data collection responsibilities, has become essential to managing this communication flow. Modern law firms require a secure business texting application to effectively (and ethically) communicate with clients.
Enter Case Status' recently released SMS for Legal.
Incoming Message: How Does SMS for Legal Work?
SMS for Legal is a way for law firms to communicate with clients simply and easily via text. Case Status provides each SMS for Legal user with a dedicated phone number for texting — and vanity numbers can be ported from other providers. These are local numbers, so law firms can communicate with local clients while accessing the built-in bona fides implied when you use the right area code. Law firm users send an initial message to clients with whom they'd like to text; and, once that invite is accepted, the law firm and the client can begin texting each other. Up to five clients and as many as five law firm staff can be added to each matter.
All text communications are available in the Communications tab in Case Status, which can be filtered for specific system users (see "My Communications"). Helpfully, the system highlights in yellow any clients who have not yet been invited to use Case Status.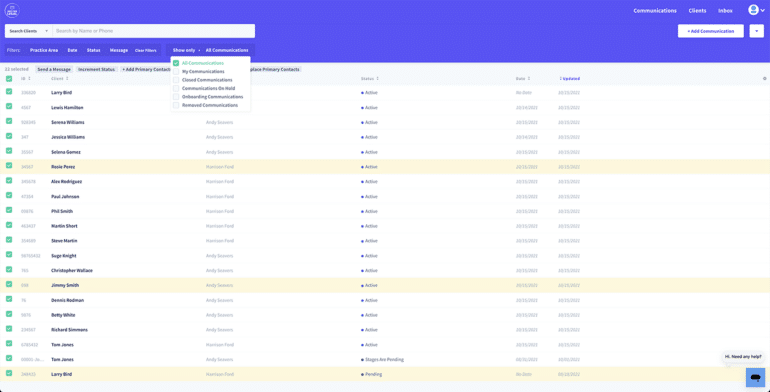 Since Case Status integrates with a number of case management programs, new matters are added to Case Status automatically (via nightly sync, unless you choose to do it manually). However, users must initiate a Case Status invite to begin communicating with individual clients on the Case Status system.
The new SMS for Legal can also accommodate group texting and bulk messaging. Users can schedule messages, too.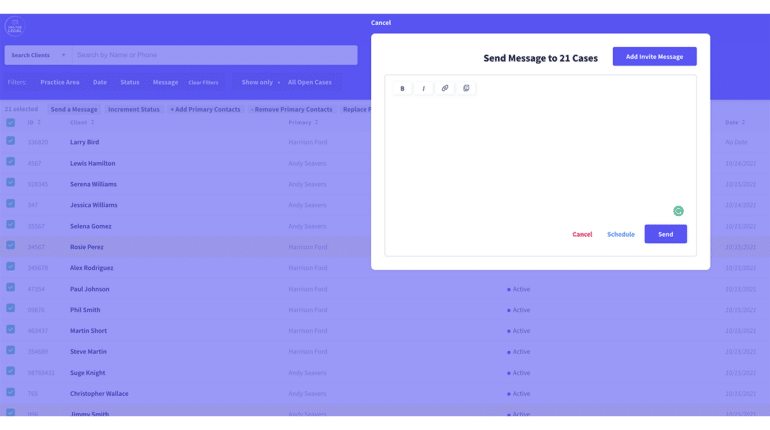 Message attachments can include images and documents.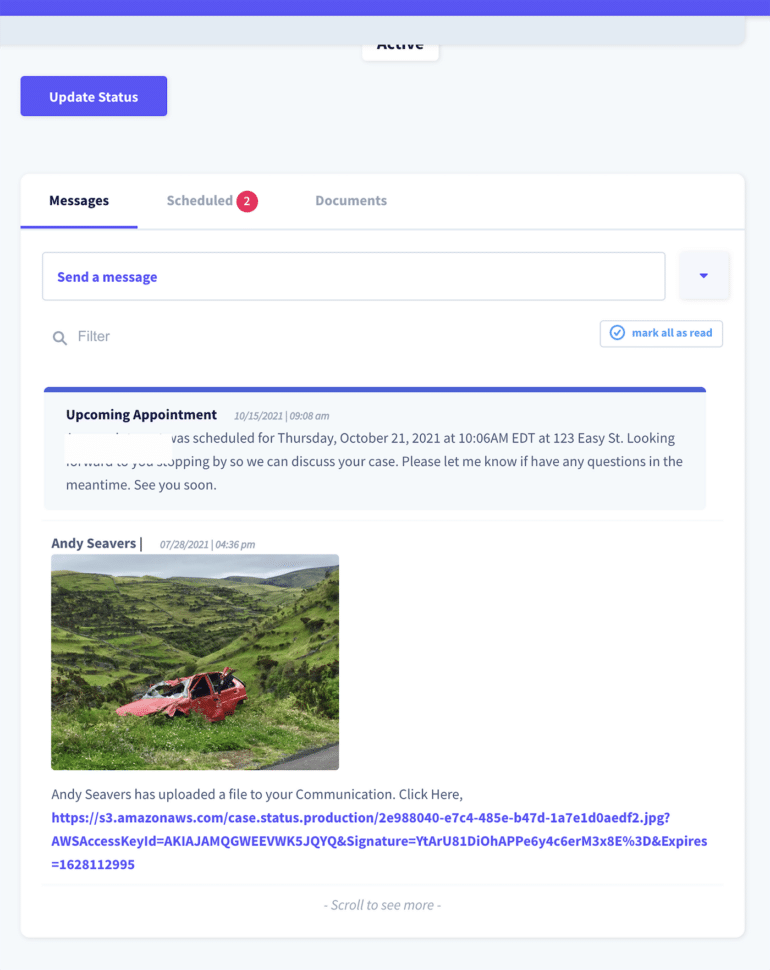 For process-oriented law firms that prize workflows, esignature and epayment links, as well as requests for reviews, can be added to text chains.
And, if you have the traditional concern many lawyers have when it comes to messaging clients in any fashion and worry about what to say? Case Status has message templates you can use to boost your messaging without worrying about sounding too much "like a lawyer" when you talk to your clients.

Text message templates help with writer's block.
Get the Details on SMS for Legal
Modern law firms are built on speed and efficiency; and so, if you want to run a modern law firm, you need to access the most efficient client communication models. Texting is the most responsive messaging platform available today.
SMS for Legal is available as a standalone product but Case Status customers have access to the tool at no additional cost.
You can access a demo of SMS for Legal right now.
(Just pretend this is a text message and click the link right away.)
The post Status Update: Case Status Releases SMS for Legal, a New Business Texting Feature appeared first on Attorney at Work.
Did you miss our previous article…
https://www.itcse.org/?p=446