Three Reasons Why It's Easier to Run Your Practice Visually
When Janelle came to us, she was running her busy litigation practice off an 18-page to-do list she kept on a yellow pad on her desk. I'm sure you can picture that list. Frayed edges. Tasks jotted down in the margins while she talked on the phone. Assignments written on little flags sticking out of the sides. Things crossed off in red and other things highlighted with a rainbow of colors.
Every time Janelle looked at that list, her stress levels went through the roof. Sure, most of her tasks were there, but she had to flip through multiple pages to remember what she'd assigned to whom and then go through her emails for the latest information. Tasks and to-dos related to a single matter were scattered across the pages. Dates were meaningless. And she'd completely forgotten what the highlight colors meant.
Janelle was coping but she wasn't managing, much less managing effectively. She was constantly chasing people for updates because she was worried about missing something, and she wasn't sure if her team had the bandwidth to take on new work.
Without clear insight into how work moves through your firm, you're running your practice in the dark.
You can't see who's working on what (and neither can anyone else).You don't know where matters stand at any given time.You don't know if you've got the capacity to take on more work.You can't answer clients' questions quickly when they call or email you for a status update.
The result:
You take on work when you don't have the capacity for it, everyone ends up working crazy hours, and your best employees burn out.You commit to deadlines you can't meet, driving your stress levels through the roof, working too hard, and sacrificing personal events that are important to you.You don't spot problems soon enough to take proactive steps to solve them. You end up firefighting all day long … and that's exhausting.
The good news: When you get work out of your head (and off your 18-page to-do list) and into a visual system where everyone can see it, your practice will flourish.
Three Reasons Why Visual Matter Management Works
1. It's easier
Our brains process visual information 60,000 times faster than text. That means we extract more information faster (a lot faster) from images than from words. It explains why so many legal practice management software platforms are creating colorful digital dashboards and why you know that


means stop, whether or not there's an English word on the sign.
Not only does your visual processing ability mean you'll get information out of a visual system faster, it also means it takes less mental energy. That's really important. Think of your brain like a gas tank. There's a limit to your daily capacity to do creative or complex tasks before you need to rest and recharge. Saving energy means you can do more heavy lifting and continue delivering value for longer.
2. Seeing work makes your whole team more productive
When everyone can see what has to be done, it's easier for teams to plan and execute. They collaborate more effectively and generate new ideas that increase productivity and overall performance. This is especially true when your team is working remotely or outside their usual routine.
You'll also enjoy a significant boost in your overall organizational efficiency. You'll spend less time in meetings getting status updates, and you'll be able to stop relying on your overflowing email inbox as your source of information about who's doing what and on what timetable.
3. Seeing work makes your practice more profitable
The biggest source of waste in most law firms is non-utilized talent. That is, the wrong people are doing the work. It's inefficient and it undermines your margins. With a visual system, you can easily see who's working on what. You'll be able to ensure the right people are doing the right work at the right cost, and you'll know when you've got the bandwidth to take on more.
Not only that, but when workflows and tasks are laid out visually, you'll see where your processes break down. A visual workflow will show you where matters stall, where tasks typically fall between the cracks, and where issues tend to arise. Knowing this, you can target those problems proactively.
You can streamline how you work, eliminate bottlenecks, and deliver your legal services better, faster and more cost-effectively, and that will directly improve your profitability.
What Does Visual Matter Management Look Like?
It can be a simple To Do/Doing/Done board like this:
Or a more complex board like this: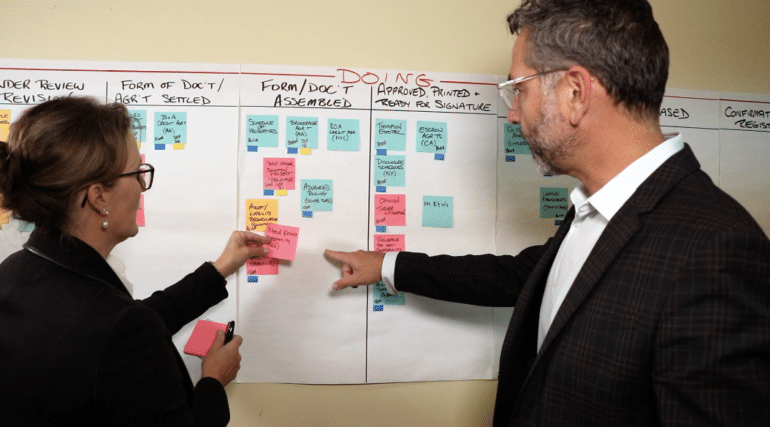 But best of all, it can be a digital platform that lets everyone see what's happening, incorporates your checklists, automates your workflow, and even consolidates communications on a task- or matter-centric basis.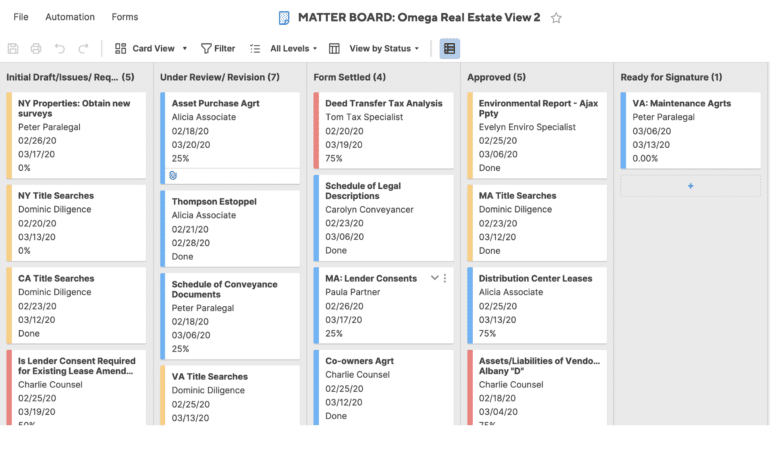 Once you understand the basics of how to use a matter management board — how to break your work down into phases and tasks and replicate that visually — you can create a visual system to run just about anything.
We've developed an easy-to-follow five-step approach to creating and using visual matter management systems to manage legal work.
Lawyers like Janelle are using our system to:
Manage everything from individual litigation matters to bustling M&A practices.Balance staffing in AmLaw 100 firms.Manage WIP in firms or across practice groups.
Find Out How You Can Use a Visual System
On December 2, we'll be walking you through our entire five-step system at the "Lawyer Five-0 Ultimate Efficiency Summit."
It's a day packed with practical tips, techniques and resources you can implement immediately to improve your entire practice. Join us for this unique virtual event and start building your five-star law firm.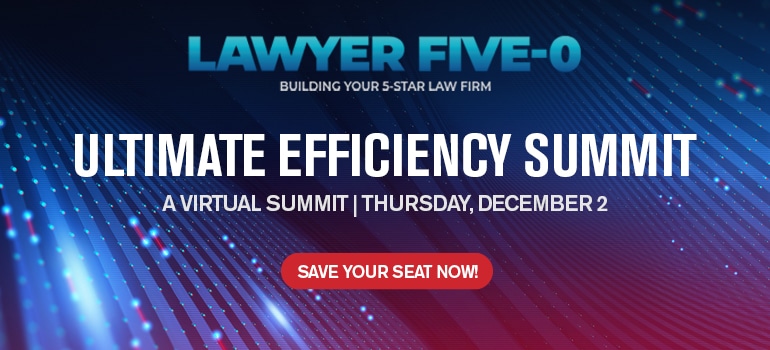 For more information and to register, visit lawyerfive-0.com
Karen Dunn Skinner and David Skinner believe every lawyer deserves a successful practice and the time to enjoy that success. To that end, they help lawyers and legal professionals build more efficient, productive and profitable practices. They're the co-founders of Gimbal Lean Practice Management Advisors and lawyers with over 20 years' experience each in Canada and Europe. They're the exclusive Global Advisors on Legal Process Improvement to the International Institute of Legal Project Management. Karen also sits on the IILPM's Global Advisory Council. They write and speak regularly, facilitate legal process improvement projects across North America, and have taught Gimbal's LeanLegal approach to thousands of legal professionals.
Graphics courtesy of Gimbal Lean Legal. Illustration ©iStockPhoto.com. 
The post Three Reasons Why It's Easier to Run Your Practice Visually appeared first on Attorney at Work.
Did you miss our previous article…
https://www.itcse.org/?p=482